RONNIE WOOD 'Always Wanted More'
Alchemy STRTR166(2003)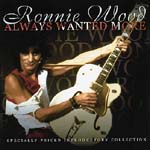 Another in the specially priced 'Introduction to' series from Alchemy Entertainment. This time up its Ron Wood, formally of the Faces and a member of the Rolling Stones since the mid-70's right up until the present day. The tracks on this CD cover Ron Wood's numerous solo works plus the two main bands in his career, mainly in a live setting.
Highlights include the fast paced 'Show Me' complete with a nice honky tonk piano. Can't tell you who appears on the tracks, as the sleeve notes are a bit sparse! But the music is the main thing, none more so than 'Flying' with its laid back 70's vibe. Good vocal performance as well, from I assume Ronnie Wood? The Faces are represented by 'Stay With Me', again appearing in live form here, a true classic and sounds great live. The Stones get a look in with the classic 'It's Only Rock 'N' Roll' and a fine version it is. Wood gets to display his guitar technique on the blues tinged instrumental 'Woody's Thing'.
For fans new to Ron Wood or Stones/Faces fans who never tried his solo material before, give this CD a go, well worth the money.
****
Review by Jason Ritchie
I Know I'm Losing You
© 2003 Ronnie Wood/Alchemy Entertainment Ltd. All rights reserved.