ROMNEY GETTY 'Fill In Your Gray' (2005)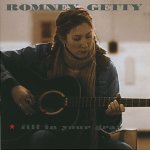 I'm afraid Romney and I didn't didn't get off to the best possible start. The first attempt to play this CD on my PC froze my operating system. But to be fair this probably wasn't Romney's fault as rebooting seemed to solve the problem.
The cover shows Romney with her acoustic and she looks pretty cold - wrapped up to survive the elements. That's perhaps not surprising – Romney is a young Canadian. The inside sleeve gives another hint of the content – Romney still wrapped up against the cold – scarf, gloves and guitar case. But it's the cowboy hat that gives the game away.
The opening number Roll On is blues based and reveals that Romney's got a powerful set of pipes on her. Waiting For The Day is a country number and You Gotta Know is a torch song. The album is largely acoustic rock tinged with elements of country, blues and roots delivered. And all delivered with Romney's dynamic vocals.
Leave Tomorrow is a particularly fine track – a memorable chorus and quite wonderful vocal reminiscent of a whiter and more powerful Tracy Chapman? And in many paces (Delta Dirty, for example) there's a distinctive Bonnie Rait feel to proceedings.
Romney will be doing a residency at The Rockwell Bar in the London Trafalgar Hilton in July / August. If you're thereabouts I recommend you check her out. I reckon she'd be pretty awesome live. For now, Leave Tomorrow is being added to my list of the best of 2005. And finally, a word for the home produced production – excellent.
****
Review by Pete Whalley