ROKY ERICKSON Reissues (Rykodisc 2005)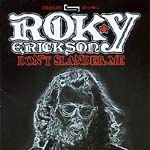 There's a good reason why some hotels don't have a 13th floor – it's because we don't want to go there. Consumers of 60s garage pysch know only too well what happened to Roger Kynard Erickson and his band – The 13th Floor Elevators. They went there and didn't come back.
Texas-born Roky took the Elevators to the US charts in 1965 with "You're Gonna Miss Me" and they released two albums abrim with scorching music. But the brew was seriously spiked.
LSD and speed were pretty much always on the menu chez Elevators: not a good thing in a State where possession of a joint equated with 20 years breaking rocks.
When the law caught up with Roky, he claimed insanity, which resulted in a three-year incarceration at Rusk State Hospital where, diagnosed as schizophrenic, he was administered with extensive electroshock therapy. He was never the same again.
Excess caught up with the band, too: Stacy Sutherland wound up in jail for possession, came out a heroin addict, and was shot to death by his wife. Tommy Hall claimed he received messages from God every 15 minutes.
Roky continued to record, which this takes us to the late 70s and mid 80s and these enhanced reissues from the excellent Rykodisc, who as ever do a great job of getting the story behind the music across with added tracks/demos and new booklet notes.
Don't Slander Me (***) was originally released in 1986. Recorded with Roky's post-asylum band, The Aliens (Roky was obsessed with alien possession, demons, religion) it showcases his capacity to deliver both high octane rockers and tender ballads.
Gremlins Have Pictures (***) corrals up previously unreleased live material and re-recordings of earlier album tracks.
There's plenty to enjoy here without being a paid-up member of the fan club. Roky gets sterling support from the Aliens and others, particularly on his most revved-up work, where everyone kicks in from the off, the whole thundering stew ramped up by Roky, shouting and snarling his songs of flames, injustice, and madness in his Texan whine of a voice.
The booklets tellingly reveal little from Roky directly but lots from a travelogue-style narrative and questions and answers sessions from other musicians and friends. In a lunch-in-the-life-of, Roky gets to articulate in a diner when he finds out he can buy raw meat there (well, steak tartare in fact). It is this report that it all 'falls into place'.
Roky Erickson stands by the affidavit he signed in 1982 to the effect his body was inhabited by a Martian. In 1990, musicians including ZZ Top, REM and John Wesley Harding recorded Where The Pyramid Meets The Eye – A Tribute To Roky Erickson.
There's a good (well, tragic) story being told in these albums. Buy, look and learn – and avoid the 13th Floor.
Review by Peter Muir
Night Of The Vampire
© 2005 Rykodisc. All rights reserved.