ROGER HODGSON 'Rites Of Passage'
(Unichord UNIVP001CD)(2003)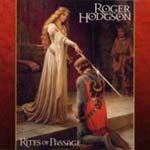 Roger Hodgson was the distinctive vocalist and frontman of seventies band Supertramp, and this live album dates from August 1996. Recorded in the USA it has the melodic invention and ascerbic observation that permeated Supertramp's better moments and that is also heard in the likes of Steve Harley's work and 10CC.
Interestingly, this album came out at a time when Supertramp had reformed after a break of some years, but without Hodgson.
'In Jeopardy' is a classy track lifted by John Helliwell's sax,(Helliwell was also in Supertramp) and we also get 'The Logical Song' which took Hodgson's original band to a Top 10 chart position in 1979, and 'Give A Little Bit'.
Hodgson has obviously got his followers, but all lovers of well constructed melodic rock can feast here.
***
Review by David Randall

In Jeopardy
© 2003 Unichord/Voiceprint. All rights reserved.