ROGER DALTREY 'Moonlighting
The Anthology'Sanctuary SMEDD 013 (2005)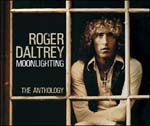 When you've led a band as popular, successful, influential and generally as enormous as The Who for 40 years, it's easy to imagine that any solo career that any solo carer that doesn't peter out is going to get over shadowed. Which is a shame, because over the last 30 years singer Roger Daltrey has produced some damn fine material.
Kicking off with the great 'One Man Band', which produces a bluesy solid one-man-band style, the album covers pretty much all of Daltrey's solo career.
Between solo albums, live performances and film soundtracks (the man's had a fair acting career too), this double set shows first his reluctance to move away from The Who with many Townsend penned numbers and a move to a work ethic that provided a wealth of material.
There's also the phase of the early 80s split of The Who, a lack of a platform showing with a lack of a direction ('Parting Would Be Painless'), and a bounce back with Under A Raging Moon (an album that featured Cozy Powell and Phil Collins amongst others).
Many of these tracks were recorded at Daltrey's Sussex studio on his estate where I spent some time as a kid, an inspirational setting indeed.
While Roger never completely erased his Who history, the solo work is varied and should not be over looked, and this well annotated double set proves that. With ample track by track notes and a few rarities too, this is a pretty essential set.
*****
Review by Joe Geesin