ROCK WORKSHOP 'The Very Last Time'
Angel Air SJPCD171 (2004)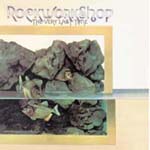 This is the second trip into the archive for Rock Workshop, a collective of musicians who featured 'sensational' Alex Harvey in formative career mode before he jumped ship to bigger things.
As a consequence, Rock Workshop are perhaps more notable for their "connections", with guitarist Ray Russell forging a later career as a respected composer/producer. Detail on the other participants is sketchy and we learn that female singer Ginger "was great but we never really knew her...she kind of just floated into the studio and did the vocals!" Ah, those were the days.
Harvey watchers should seek out the first album, also reissued on Angel Air, because their hero is fully featured. He had left the band by the time this second album was recorded, although he's included on a few bonus cuts from the period.
Rock Workshop peddled a brand not far removed from the jazz-rock of Blood Sweat and Tears. It is quite clear, though, that this blend of funky Russell riffery and free jazz was not going to yield a Top 20 appearance. The bonus track 'Heavy Weather' is really where they were at and is a wonderful blend of brass, organ and rock guitar. 'Ashen Besher' sounds remarkably contemporary, too, with a hypnotic riff topped with Russell's frenzied fretting. A feast.
Reading between the lines, Rock Workshop like many before and after were snuffed out by the age-old dilemma of artistic integrity versus the need for a hit single. Needless to say the band stuck to their virtues and promptly disappeared. Which makes this second outing all the more interesting.
Label website
***
Review by David Randall


£12.99
Living Reason
© 2004 Angel Air Records. All rights reserved.