ROBIN GEORGE Crying Diamonds
Majestic Rock MAJCD072 (2006)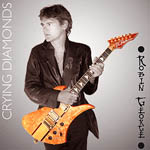 New solo album from legendary guitarist Robin George, on which he plays or programmes most of the instruments.
Modern sound, heavy sounding, solid hard rock.
There's some good songs here, with some older songs that were co-written with Phil Lynott and David Byron.
A little technical in places, you feel that it suffers from George trying to do too much; there are valid reasons for employing drummers and the like. But some decent tunes make for a good listen.
***½
Review by Joe Geesin