Just witnessed your best live gig?..send us a review!
ROBERT CRAY BAND
Florida Theater, Jacksonville, Florida, 30 March 2006
Robert Cray is certainly one of the best blues men of this era and a man who does not follow the usual concert format. I spoke with the sound man before the show and as I always do, I asked him to save me the set list. Since I am the photographer and the reviewer, it's easier for me to write my opinion if I have a reminder of what was played. His reply was "Man, I haven't had a set list in years from Robert, he plays whatever he wants". He sure does and he plays it better than most, mixing traditional blues with rock, and funk. For the caliber musician that he is, the house was noticeably empty with only 500 seats filled in the Florida Theater.
I hate to write this but Robert if you happen to read this review, you need to know that the treatment I received as a member of the media was terrible. With your talent and history, your handlers need to know that the media is your friend who can be the difference between empty seats and a full house. That being said, fresh off of my review of Bonnie Raitt and Susan Tedeschi, Robert continued the blues high I've had the pleasure to experience lately.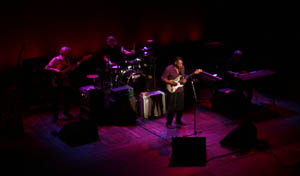 I truly enjoyed Mr. Cray's performance. The band was as tight as can be, the dynamics between Robert's solos and the rhythm section was something only another musician could truly appreciate. As a former bass player, I immediately keyed in on Karl Sevareid's relationship with his drummer (Kevin Hayes). I'm usually disappointed when I do this but not this time, Kevin's foot and Karls fingers was as if they belonged to the same being.
With this backdrop, the overlay of Roberts memorizing playing was a thing of beauty as he finessed the melodic notes that seemed to be coming from his soul through his guitar, amplifier, and finally delivered to our ears like a gift from above. Ok, I'll cool it with the poetry :)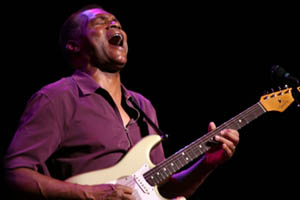 This small venue tour is in support of the Robert Cray band's latest album (released last year), 'Twenty'. Some tracks from the new album, including 'My Last Regret' and 'That Ain't Love' were smooth and polished. Just as the sound of Brian May's guitar or Roger Daltrey's voice is instantly recognized. Cray's unmistakable blues style makes you settle into his show just like slipping on a pair of old jeans.
Cray's voice is has that same distinctive style that is easily capable of filling a much larger venue. The ego that usually accompanies such a virtuoso is refreshingly absent from both Robert's stage presence and his personality. As the crowd continued (rudely) to yell out requests and comments (all positive), Robert would participate in the exchange as if playing to a room full of friends. I've not seen that level of patience from a professional artist.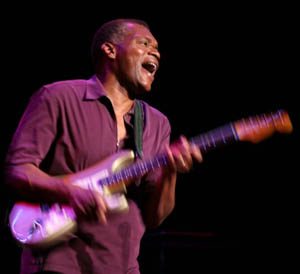 The crowd enjoyed an intimate quality performance from a top blues band and had some elbow room to boot. If you get the opportunity to see the Robert Cray Band, buy a ticket. Despite the road manager's best efforts, my experience was worth the trouble. Stay tuned for later this month, I'll be capping off my Blues reviews with the king himself, BB King. –Steve Janowicz
Story and Photos by Steve Janowicz