ROBERT CRAY BAND 'Time Will Tell' (Silverline 288210-9)(2003)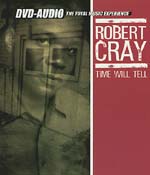 There was a time at the dawn of the 1990s when the blues was de rigeur. Everyone wanted to do it, and we had a string of albums from players like Gary Moore, Clapton and others who saw it as a return to their roots. We also had "new" acts such as the acclaimed Jeff Healey Band and others like Buddy Guy who had a career revival. Also part of this vanguard was Robert Cray, who with his first two albums managed to capture attention with his blend of commercial and soulful blues music.
Such is the fickleness of pop, this blues boom went bust, leaving Moore, Clapton and co. to get on with their careers. Others, like Jeff Healey, fell by the wayside. Cray, though, kept on going although never quite achieving the heights of those early albums. He survived at least because he never strictly played the blues anyway and always had an ear for the catchy tune which sometimes escaped others in the genre.
Tellingly, this latest offering starts with a track called 'Survivor' and is the best entry for those who want to get acquainted with Cray's essentially soulful vocal delivery and rhythm and blues backing. 'Back Door Slam' is pretty cool, with a mean riff,gritty vocal and tremelo guitar, and co-written by drummer Kevin Hayes. 'Distant Shore', written by keyboardist Jim Pugh, has a welcome urgency. Their bandleader is an excellent songwriter but one longs for him to get a bit mean and dirty from time to time. Interestingly, this only really happens on the non-Cray tunes.
Vocally Cray is almost a direct descendant of those Atlantic/Stax soul crooners of the sixties like Wilson Pickett or Eddie Floyd. The addition of Stax-brass on a track like 'Your Pal' only reinforces this theory. When combined with Cray's powerful (but frequently understated) guitar the effect is potentially explosive. This DVD-Audio includes artist photos and a live performance video.
***
Review by David Randall