ROB REYNOLDS 'Sightseeing' Invisible Hands(2004)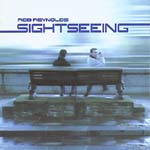 When you first put this disc on you immediately think ' that sounds familiar'. At least in terms of vocal delivery. My second thought was 'Paul Carrack'.
The opening track is the first single - Sweet Mother - described in the publicity blurb as 'jaw-dropping'. I wouldn't go quite that far. But it is undoubtedly a superb track - a wonderfully powerful groove with excellent vocals. But it's a standard the rest of album has difficulty in aspiring to.
On the third track in, my wife wandered in - 'Have I heard this before? It reminds me of Seal'. Fair point, well made. And that's part of the problem Rob reminds of many great vocalists - Paul Carrack, Seal, Bob Seger, Michael McDonald, James Ingram (Ya Mo Be There) and Steve Windwood. He sounds a little bit like them all at times and you spend half the album thinking 'who does that remind me of?'
At least he sounds hungry for it which is more than can be said of most of the aforesaid who all have their pension contributions well and truly sorted. Of course, none of these are new artists and while there's very little that's truly new this album does have an almost 80's feel to it.
It is, in fact, Rob's third album, his band this time round including Massive Attack drummer Carlos Hercules, Archive bassist Carl Holt and Manics /PiL keyboard player Richard Cottle.
It's a pleasant Radio 2 sort of listen, well recorded and Rob undoubtedly has a great voice, but a hit or a miss? I'm sorry to say it, because there's a lot of promise here, and I'm sure Rob is a great live performer (having shared the stage with the likes of Errol Brown (is that a good thing?), Midge Ure, Procul Harem and John Martyn), but for me its just lacks originality.
***
Review by Pete Whalley
Sweet Mother

© 2004 Invisible Hands. All rights reserved.