ROB McCULLOCH 'Thoughts Alone' (2005)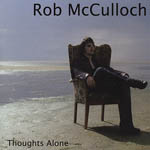 19 year old Rob is the latest Manc to seek fame and fortune on the musical merry-go-round.
'Let It Go' kicks the album off in typically Stone Roses style. Pounding rhythm, swirling guitars and nasal delivery somewhere between Brown and Gallagher. Pretty damn fine, if a little derivative. Just what you might expect from a Manc on an indie label.
Which makes 'Taking Off With You' come as a bit of a surprise. Itís a piano/strings ballad without a hint of Northern punkadelia. The vocal delivery is excellent and packed with passion. 'Take Me Whole' continues in the same vein. Itís not as strong a number although the guitar break is particularly delicate. Lovely in places, but somehow the chorus doesnít feel like it belongs with the verses.
Having lulled you into a false sense of security, 'Be Free' is like being unexpectedly assaulted. Snarling guitars and vocals pummel you leaving you breathless and somehow satisfied.
And then the acoustic balladeer reappears with 'Doing You Wrong'. 'Fucking With My Mind' finds middle ground Ė strings yes, but ponderous bassline, heartfelt delivery and possibly the best and most individual number here. Excellent, although the lyrical content is likely to limit airplay.
'Hard To Breathe', a piano ballad, maintains the quality control level with the best vocal delivery on the album. A quite stunningly beautiful track.
'Beauty Inside has an almost Celtic beat and is otherwise Dylanesque. Some might call it a ditty. Others may not be so kind. Somehow it doesnít fit with the rest of the fare on offer.
'So Many Colours' is an up tempo number, but frankly nothing special. 'Questions In Disguise', another rock number of no particular distinction, closes the album.
'Thoughts Alone' is unlikely to make Rob a household name. Which is a pity because there are moments of brilliance - 'Let It Go' and 'Be Free' both rock like mothers. 'Taking Off With You', 'Fucking With My Mind' and 'Hard To Breathe' show his ability to deliver a first class ballad.
What that makes , is a half decent album. Which is unfortunate. A whole album to those standards would have made it irresistible.
***
Review by Pete Whalley

Fucking With My Mind
© 2005 Rob McCulloch. All rights reserved.