ROB DICKINSON 'Fresh Wine For The Horses'
Sanctuary (2005)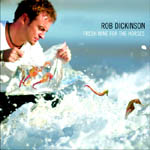 I have to be honest; The Catherine Wheel passed me by. The name is vaguely familiar, but the nineties British rock band didn't feature on my radar despite releasing six albums on almost as many labels. Rob Dickinson was the driving force behind the band and five years after they stopped making records he has re-emerged as a solo artist with Fresh Wine For The Horses.
First thing to say, this is an excellent record, but one that's difficult to pigeonhole. Rob doesn't want to be categorised as singer-songwriter and Fresh Wine For The Horses doesn't come across as belonging in that genre. But it has a 'classic' English heritage about it – the 'feel' of artists like Peter Gabriel and Pink Floyd. The 'feel' that our American cousins could never emulate.
Like Gabriel and Floyd, Fresh Wine For The Horses is painted on a vast soundscape and is superbly crafted. And after five years, I suppose it should be. According to Rob, there's been chin-scratching, navel-gazing and rearranging, but whatever a song deserved it got. And the results are impressive.
It opens with My Name Is Love – a big, powerful ballad with a wonderful chorus. Rob's voice ranging from a deep gruff to a tender falsetto. Oceans has echoes of Floyd and sixties song-smiths. The Night is a gentle acoustic number with Marc Cohn overtones.
Intelligent People is about living downtown in New York. Handsome, is hugely powerful and compulsive in an almost Moody Blues I'm Just A Singer In a Rock And Roll Band type of way. Bathe Away has a hypnotic Bowie Let's Dance era rhythm. The Storm is just that – a power number with barely restrained guitar work. Bad Beauty a sombre number born from the experience of being in New York on 9/11.
Don't Change has more echoes of Floyd – The Great Gig In The Sky, to be specific. And quite wonderful it is too. Towering And Flowering closes the album – another hypnotic number that grows and grows - Gabriel rhythms and vocals, and soaring guitar work.
Fresh Wine For The Horses is an eclectic collection that reveals its subtleties with repeated listens. And while many influences are revealed, it's never derivative. It's quintessentially English by birthright but has an almost American feel in places. This is an album you'll want to reach for time and time again. Highly recommended.
****
Review by Pete Whalley
My Name Is Love
© 2005 Sanctuary Records Group. All rights reserved.