ROB BAN 'About Goddamn Time' (2004)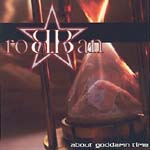 Sweden seems to be a hotbed of all things rock and Rob Ban joins the ranks of the 'must hear'. Musically it would most probably be classed as 'nu breed of melodic rock' - don't you just love these musical tags? To these ears it is an album chock full of breezy pop rock tunes like ' I Wanna Fly' (has to be a single this one) and 'Just Like That'. The songs have modern loops/synths which beef-up the core bass/guitar/drum sound.
Excellent production throughout by Ban himself and Kenny Elfstrom lays down some cracking guitar solos but without ruining the overall sound of the songs.
Rob Ban has a great set of vocals, with nearest comparison would be prime time Rick Springfield ot the criminally under rated Jude Cole. Only 'I'm Still' wanes after repeated plays, otherwise the tunes remain in your head and provide the prefect soundtrack for summer!
Band website
****
Review by Jason Ritchie
Hard To Believe
© 2004 Rob Ban. All rights reserved.
***** Out of this world | **** Pretty damn fine |
*** OK, approach with caution unless you are a fan |
** Instant bargain bin fodder | * Ugly. Just ugly