RIOT Army Of One Metal Heaven 0008 (2006)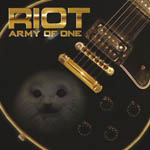 Mike DiMeo has been moonlighting recently with The Lizards, but he's back in his own band Riot for album no.13.
The band's history goes back to the late seventies and after several line-up changes the common thread appears to be original member Mark Reale on guitars, and Mike Flyntz who joined in 1988. DiMeo has been there since 1994.
Riot have always churned out consistently good if irregular albums and have found success in Japan. The new offering (their first since 2002's 'Through The Storm') will retain their faithful followers and may even jump-start the band's see-saw career.
It is difficult to detect a USP for Riot and one suspects they may forever be consigned to support slots, changing personnel, the vagaries of the musical climate, and occasional releases.
They occupy a space somewhere between Iron Maiden and Foreigner and for those who followed Lou Gramm into Shadow King there are similarities. ('Darker Side of Light' in particular)
Quick Questions with Mark Reale
What are you currently up to (recording, gigs etc)?
We are currently booking shows for the early part of the year in 2007 and hope to start recording a new record.
How does it compare with previous Riot releases?
It's a combination of the different styles that we have touch on over the years,
What are your favourite tracks on the album?
One More Alibi, Mystic, Alive In the City and Blinded
Who were your influences when you first started playing guitar?
Ronnie Montrose and Rick Derringer. Later on Michael Shencker, Gary Moore.
What bands do you listen to now, and what guitarists do you admire?
I mostly listen to classical stuff but I do like bands like Evanescence, Audioslave and Jet.
Is the current music scene difficult for a band like Riot (making albums, getting gigs etc)
As far as the mainstream goes, yes.
Future plans for Riot and any plans to tour, or even come to Europe?
Yes we are already planning shows both in Europe and Japan as well as some dates in the US.
Any personal ambitions not yet fulfilled?
Yes, there's always musical ambitions that I'm striving for such as becoming a better player and song writer. Also there are always music projects that I'm always thinking about.
What do you enjoy doing in your spare time away from the music scene?
Watching classic movies, Grilling out side, Photography and running daily.
Title track 'Army Of One' rattles along, with plenty of wah-wah and crunching twin-guitar riffs whilst 'Knockin' At My Door' breaks into a REO Speedwagon/Boston-style chorus. 'Still Alive' and 'Shine' have wonderful twin riffed guitar and DiMeo's best Rodgers-via-Coverdale-to-Gramm holler. 'Alive In The City' evokes early Whitesnake at their best.
The twin guitars of Reale and Flyntz add suitable grist throughout (check them out on 'Blinded', 'Helpin Hand' and 'The Mystic') and DiMeo's vocals are strong and melodic.
Although this album is rooted in the late eighties, a combination of powerful playing and consistent writing makes 'Army Of One' a formidable force to be reckoned with.
****
Review by David Randall
Still Alive
© 2006 Metal Heaven. All rights reserved.