RINGO STARR 'Choose Love '
Koch Records KOC-CD9550 (2005)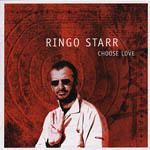 Has Ringo Starr made a good album since 1973's 'Ringo'? Does anyone care? Will 'Choose Love' change anything?
I cannot see who will want to buy this album, even a hardcore Beatles addict may have difficulties.
Ringo has always been a bit iffy in the vocal department and whilst you can accept this because he is, after all, surviving rock aristocracy, others would be politely shooed out of the studio.
Ringo's all-star band has over the years more than made up for any shortcomings and maybe this is half the problem with 'Choose Love'. Perhaps he is in with the wrong crowd.
I am sure Ringo's heart is in the right place but this is Goddamn-awful. It sounds like a poor Beatles pastiche, tracks that would have been firmly left on the cutting-room floor by the Fab Four and indeed anyone with a jot of common decency.
This is probably going to appeal to the blue-rinse brigade who last swung in c.1965 and it would go down well at corporate parties aimed at those of a certain age and punters too smashed to care.
OK, so this is Beatle-ish music performed by an ex-Beatle but it's in a time-warp, uninventive and, frankly, a wasteful tribute. Choose Love sounds like a good proposition. Just don't choose this.
*
Review by David Randall