RING OF FIRE 'Lapse Of Reality' Frontiers(2004)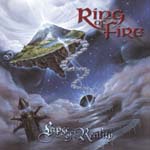 I do not think that there are many people who listen to melodic Hard Rock and have not come across the name Mark Boals. He is without doubt one of the most important vocalists in the Hard Rock scene, as he has offered his services to many different projects which featured artists such as Ted Nugent, Joey Tafolla, Yngwie J.Malmsteen and Daniele Liverani.
I know for certain that if I take a quick look in my record collection, I will find at least five albums that will feature the name of this great frontman, most important of which I consider to be Yngwie J.Malmsteen's "Trilogy" album.
Based on what I just said, I really cannot understand why I never bothered to check out any of his previous albums with Ring of Fire. On the other hand, if you are a person that finds satisfaction in many different styles of music, it is almost inevitable to kind of loose track and 'miss' many interesting releases!
Anyway, the bottom line is that Mark Boals has just released his fourth studio album with Ring of Fire, and I am the lucky person that was chosen to make a review for Get Ready to Rock. I became even more excited when I saw the list of the musicians, which took part in the recordings of this album.
The first ones to be invited were Tony MacAlpine and Steve Weingart, both of which handled the guitar duties. One very interesting choice was that of the rhythm section. On the drums we have Mr. Virgil Donati (Planet X), and on the bass guitar the amazing Philip Bynoe (Steve Vai).
With such an impressive line up, you would expect that "Lapse of Reason" would be a killer release. Well, that's not exactly the case.
There are some really good Hard Rock compositions like "Saint Fire", "Change", "The Key" and "Perfect World" where all the musicians got their chance to prove why the are considered by many to be part of today's musical elite.
I would also suggest that you check out "You Were There", the albums sole classic ballad - Mark's strongest point.
It seems though that what Mark had in mind was not to create just another Hard Rock album.
The results of his attempt to create more complicated compositions to his well-known Hard Rock style did not work as well as he probably expected. I do not understand what he was trying to do with "That Kind of Man", "Machine" or "Don't Know (What You're Talking About)", and no matter how hard I tried, I always failed to relate to them.
No, I am not disappointed by this release. Maybe it's the fact that I had subconsciously prepared myself for something totally different, and I'm still surprised by Mark's choices.
If you're not a Mark Boals fan, I suggest that you listen to this album before you choose to invest in it. Just don't make the mistake of listening to it just once. Who knows, maybe you will manage to get something out of this album that I still haven't.
***½
Review by John Stefanis