RILEY 'Sit Up EP ' (Mi5 Recordings MUK003) (2004)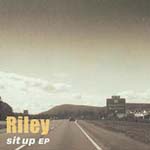 Based in the West Midlands, Riley have already had support slots to Paul Carrack and Go West and were voted Band of 2003 by the Midlands' biggest radio station Heart FM.
Singer songwriter Dave Robertson lends a touch of gold-dust to the proceedings, the vibes are evocative of other indie bands, but Riley retain their identity. This four-track EP is a portent of greater things to come (well, at least a full-length CD).
Title track 'Sit Up' takes a little while to weave its spell but its chorus and chiming U2 guitar is infectious. 'Forgiven' and 'Belief Within The End' are further examples of the sophisticated and thoughtfully constructed tunesmanship. The latter brings to mind another great songs-based band the late-lamented Badfinger.
Standout, though, has to be 'We'll Be Fine' which should arguably have been the lead offering. It has the band's superb blend of busy guitar-work, Robertson's neat vocals and a persuasive chorus. This could even be the band's signature tune, because there is no doubt that, on the basis of this sampler, they will be fine indeed.
****
Review by David Randall

We'll Be Fine
© 2003 Riley/Mi5 Recordings. All rights reserved.
Related>> Interview