RICKY WARWICK 'Love Many, Trust Few' Sanctuary (2005)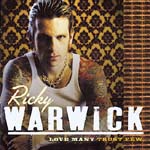 Ricky "The AlF***ingmighty" Warwick doing new country? Yep with the help of a couple of ole' muckers from Def Lep, Joe Elliot and Vivien Campbell no less.
This a great collection of country-tinged hard rock that while running to 14 tracks never gets boring.
This is by far the best thing that Warwick has been associated with for many a moon. This is a great album that gets better with every listen : tracks like 'Guilty' and the bitter 'Sometimes even Losers' being some of the highlights to this impressive collection.
It may have been recorded in Ireland, but its heart is in Nashville (think Montgomery Gentry). Yet another example, if needed, of my theory that hard rockers go country the minute they get sensitive. And as they say up north: there is nowt wrong with that. It deserves to be huge. A tour with da Nuge & Toby Keith maybe? Quality stuff.
*****
Review by Marty Dodge
Learning To Fall
© 2005 Sanctuary. All rights reserved.