RICK WAKEMAN Journey To The Centre Of The Earth
Classic Pictures (2005)
Yes keyboards man defines prog rock excess...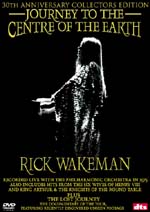 This is the Australian show from 1975 recorded with the Melbourne Symphony Orchestra. It features the ''Journey to the Centre of the Earth' suite plus live classics such as 'Catherine Parr' and 'Catherine Howard'. Wakeman's 70's albums really defined the excesses of prog rock with banks of keyboards,choirs,orchestras, more band members than ELO, massive light shows - in short the works. The film quality is variable in parts but overall a very enjoyable concert. Plus it's now in 5.1 surround sound for added aural enjoyment.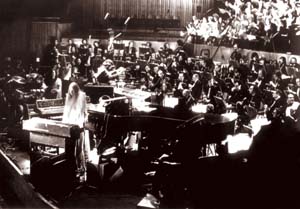 But the real treat for fans is the reuniting of some of the band earlier this year - 30 years to the day the show on this DVD was performed. You've got Wakeman plus vocalists Ashley Holt and Gary Pickford Hopkins, bassist Roger Newell and drummer Barney James. Needless to say they are all in fine form and Wakeman seems to recall it all like only yesterday. Interspersed between this reunion is rare footage shot between gigs and backstage.
Again pretty damn essential for Wakeman's legion of fans.
****
Review by Jason Ritchie
***** Out of this world | **** Pretty damn fine |
*** OK, approach with caution unless you are a fan |
** Instant bargain bin fodder | * Ugly. Just ugly