RHAPSODY OF FIRE Triumph Or Agony
SPV (2006)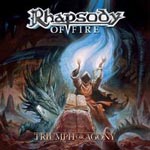 Yes this is the same Italian pomp metal overlords Rhapsody, simply with added 'Of Fire' due to legal reasons. They are back with another feast of 'cinematic metal' as they call it or OTT pomp metal – streets ahead of the one dimensional widdly music Dragonforce produce. Christopher Lee is back in narration mode and this time Susannah York joins in, plus there is a full orchestra and choir on board. To be honest you will either love or loath this sort of music as it is very intense and grand in its arrangements. It is like listening to a fantasy movie soundtrack but without the pictures (in fact the ultimate would be Rhapsody Of Fire doing a feature film for their music!).
After a pomp intro (great track name in 'Echoes for the Elvish Woods') the band launch into some top notch riffing in the title track and 'Heart of the Darklands'. There is of course an epic piece of music – a mere sixteen minutes of 'The Mystic Prophecy of the Demon Knight', where the keyboards of Alex Starpoli really shines through. It is very easy to mock bands like this and Manowar but that is to do them a disservice as they really believe in their music and they are very competent musicians. Buy with confidence!
****
Review by Jason Ritchie