REVOLTING COCKS 'Beers,Steers & Queers'
Rykodisc (2005)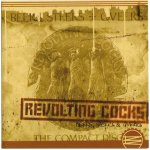 If you think about it, it is actually really simple to establish an opinion as to how good, or not, an album really is. You will either have to deal with a good quality release of a band whose style and sound could or could not be to your liking, which is what all music journalists are craving for, or you could end up having to listen to an awful release which, regardless of the style and genre, is not serious enough and ends up putting you off completely. What will you do, though, if you ever come across a release that is so professionally made, yet its sole purpose is to entertain in a really funny an simplistic way, that deprives the listener from considering it to be as 'serious' as the rest of the 'normal' releases?
Well, this is a problem that anyone that decides to listen to 'Beers, Steers & Queers' is going to have to face. The name of band, which released an album with such a weird title is the Revolting Cocks-what, youíre not impressed? What would you say if I told you that this band was formed in 1986 by Al Jourgensen (Ministry), Chris Connelly (ex Fini-Tribe) and the Belgian phenomenon Luc Van Acker? Hmm, I see that I did manage to draw your attention after all! These three well-known gentlemen, with the addition of Richard 23 (Front 242) and Paul Barker (ex-Ministry) have released quite a few albums under that name, one of which was 1990ís 'Beers, Steers & Queers', which is now re-released by Rykodisc with three additional tracks form a 12' release, plus a previously unreleased track thatís entitled Cattle Grind (Studio-Mix). OK, all that sounds really good, but what on earth is this release all about?
It would be quite optimistic on my part to try to categorise this release. What I will say, which I think is quite representative of this seventy four minute album, is that 'Beers, Steers & Queers' is the creative result of Al Jourgensenís mentally-disturbed alter ego.
The music is predominantly Ďindustrialí orientated, but there is also a variety of different and unusual musical elements which have blended in and have contributed to making this album such an unusual release. The most typical example of what I have just described is the opening track 'Beers, Steers & Queers' where Rap and record-scratching samples are mixed with Cowboy yells and industrial sounds - the album that every rapper who was lucky enough to meet Billy the Kid in some lousy derelict bar of a remote US ghost town should have in his/her record collection! Are there more songs like that on this album - you bet!
The following track, '(Letís Get) Physical From 12' is based on a similar pattern, even though it will somehow sound less absurd and better structured than the opener. 'In the Neck' was quite a surprise, because if you were to exclude the classic Ministry references and the weird vocals, you will realise that this could have easily been a big hit on the dance floor of an 80s disco. The first song that I really enjoyed listening to was 'Stainless Steel Providers', mainly because of the nice melodic bass that is actually doing all the work here, as well as the act that this is the first properly-structured song of the album.
The band continues to experiment with sounds and styles on all the remaining songs of the album, two of which did manage to stand out for me - these are 'Canít Sit Still' and the fourteen-minute long 'Get Down'. Additionally, the band has included two 'alternative' versions of the same-titled composition, which are simply there to entertain the 'chosen few', same as the other bonus track '(Letís Talk) Physical- From 12', which features a seven-minute ordeal with Chris Connelly simply screaming 'Talk'(I cannot even begin to imagine what he was on when he was recording this 'song').
And now comes the crucial moment when I have to say what I think of the album-well, I have to say that there were moments when I found it quite enjoyable - please donít ask me why, because I donít think that I can really explain it. If you try to compare 'Beers, Steers & Queers' with any average release, you will do it a great injustice. Jourgensen and Co did not have such an intention when they recorded it, so I suggest that if you decide to buy it, you enjoy it for what it is. Now, if I was to find out that the majority of the people who are going to invest in it will be fans of Ministry, I will not be surprised.
***
Review by John Stefanis