RENAISSANT South Of Winter TJSCD01 (2006)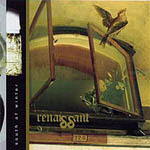 Renaissance enjoyed some success in the seventies but it has been left to the individual members to carry on that band's legacy after the somewhat abortive comeback attempt 'Tuscany' in 2002.
Terry Sullivan, the band's original drummer, has put together 'Renaissant' which is similar in name if not intent. Sullivan has also added Renaissance's secret weapon, the lyricist Betty Newsinger (nee Thatcher), and further cred is gained by John Tout's presence on piano.
Renaissance fans won't be disappointed. Sullivan's wife Christine does the Annie Haslam role and if she hasn't got Haslam's purity of tone she certainly acquits herself well. It's a family affair because Terry's sons Lee (who co-produced) and Kristian play keyboards and guitar respectively.
The songs, as you might expect, are stirring, expansive efforts and complement the best of the original band: 'Carry Me Home', the pastoral chimes of 'Alone', and the dreamy 'Burning Bridges' set the high standard. The title track, in particular, is a standout and the lyric demonstrates that Newsinger has lost none of her old aplomb.
If there is one criticism, it is the rather weak (male) vocals, and the finger has to be pointed at the otherwise on-form Terence Sullivan ('Cold Flames' and 'Careless'. The latter is potentially a good tune but is not only spoilt by the lead vocal but an over-fussy arrangement).
On balance, though, there is enough here to keep fans of the original band happy, and newcomers might find something worthwhile too.
****
Review by David Randall

South Of Winter
© 2006 Voiceprint. All rights reserved.