REM Reissues Warner/Rhino (2005)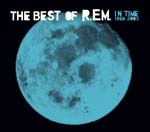 All the Warners REM back catalogue has just been re-issued in lavish CD with DVD-A sets.
1989's 'Green' album (****1/2) includes the sublime 'Orange Crush', one of my personal favourite REM tracks 'Stand' and the lively 'Get Up'.
On the bonus DVD you get the entire album again in 5.1 surround sound (this applies to all the reissues as well), a short documentary/interview piece plus the videos for 'Orange Crush' and 'Stand' - my how the band have changed in looks! If you don't have this REM album then I heartily recommend you get it quick smart.
The greatest hits package 'In Time' (*****) includes all the singles plus the video for 'Bad Day', a track exclusive to this compilation and one of the band's more lively songs of late (the bonus DVD includes the video which sees singer Michael Stipe in news reader mode). A good CD to start with if your new to REM's output.
Last year's 'Around The Sun' (***1/2) is also revamped. The album features some of Stipe's best vocal moments including the hit single 'Leaving New York' and the blissful 'Electron Blue'. The only downside of the album is the lack of any real firey, up-tempo numbers that REM seem to have left behind in the last couple of albums.
The DVD features the videos for 'Aftermath' and 'Leaving New York' plus a preview of the forthcoming DVD 'Perfect Square' and live footage. This is certainly the best album for bonus material and will doubtless drive the album sales upwards again.
If you've been toying with buying any REM CD I would say these reissues are the ideal opportunity, as they are well packaged with plenty of bonus material and more importantly reasonably priced.
Review by Jason Ritchie