REEL BIG FISH Our Live Album is Better Than Your Live Album 2-CD/DVD Rykodisc RBF001 (2006)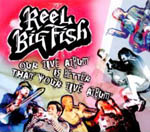 'The last time we played here was like having sex with a dead body, but this time it was like having sex with an unconscious body'.
From the opening parodied crescendo and magical chanted mantra 'everyone's doing the fish' that forms an integral part of the opening track 'Trendy', you are on a musical roller coaster that twists and turns through a scintillating set. Quite simply, Reel Big Fish come as close as any live album ever has to capturing the real dynamic underpinning a live band and its audience.
For while the Reel Big Fish might swear a lot and are hugely irreverent, they are also musically spellbinding, very funny and one step ahead of the college circuit that I am sure sustains their unique mix of lighting fast Ska Punk and New Wave rock. But as we enter 2006 and the band slip into their eleventh or so year of their existence they have obviously made a few career choices, most notably turning their back on a major record company deal in favour of this their first independent release.
Hailing from Orange County, California, Reel Big Fish offer a warped, hyper version of ska inflected, lightning fast pop tunes that deal with everything from personal relationships and societal ills, to over the top satire and in fact anything the band don't like!
The between song, on stage banter is pure Flo & Eddie from the Mothers 'Live at the Fillmore East' days and the eclectic musical turns have been mined before by bands such as Canada's Moxy Fruvous. But what sets Reel Big Fish apart from their musical antecedent's is the musical brilliance of the compositions that can in the space of three minutes shift from blistering rock song into triple time ska, fiery punk and reggae by turns. On top of that they find room for the occasional good hook.
They also slip into some wonderfully arranged covers, bringing a ska and punk feel The Cure's 'Boy's Don't Cry' for example and adding a dash of reggae to Tracy Chapman's 'Talkin' Bout a Revolution' and they even parody A-Ha's 'Take on Me'. But it is with their own songs such as the supercharged 'Beer' which combines high energy rock and skank, or the ironic horn-led lovers lament 'She's Famous Now' complete with some lightning changes that the band stand out.
There are more pumping horns and a guest appearance by Rachel Minto who both duets and adds bv's on the very 90's sexual parody 'She Has A Girlfriend Now', which incidentally opens with the memorable comment to the crowd, 'don't yell at me, don't you know who I was in the 90's'
Then there's the Zappa derivative 'So Much for Rock and Roll' on which the band harmonise on the wonderful sing-along 'You are such an asshole' with real elegance over a reggae back beat. Oh, and did I mention the hottest horn section since the Tower of Power, who all sing? In fact everyone seems to sing except the drummer, while bass player Matt Wong is not averse to slipping into falsetto mode. Everything comes together brilliantly on the staccato and suitable titled 'Awesome' which comes complete with a killer hook.
This double CD/DVD release is as the band suggest on their web site, the perfect composite to introduce themselves to both a new audience and rekindle some of the older songs notably 'Everything Sucks' 'Sell Out' and Turn the Radio Off' which were written nearly a decade ago. But Reel Big Fish is a hugely creative, restless beast that as the excellent live DVD gloriously proves works best in front of a packed audience.
In an age where developing new talent often come off a poor second best to MOR radio fodder, Reel Big Fish are a breath of fresh air. The band's unique blend of brilliant musicianship, irreverent lyrics, and on stage humour results in a cracking live show which is perfectly captured in both CD and DVD format on one of the best albums of the year.
****
Review by Pete Feenstra
---
| | |
| --- | --- |
| | Print this page in printer-friendly format |
| | Tell a friend about this page |