A greatest hits fest that really lives up to its title...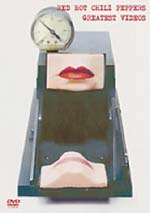 Let's face it, you're not going to invest in a DVD of Greatest Hits unless you've already got an interest in a band. So the criteria are a) do you like the artist / band, b) do you like the music enough to want a Greatest Hits DVD, c) what is the quality of the 'videos' and d) what 'extras' do you get (if any)?
Well, let me lay it on the line - this is the best Greatest Hits DVD collection I've seen to date. Why? Simple - it's quality. The music is excellent throughout - more or less following the track listing of the Greatest Hits CD. In other words, by and large it features the single releases form Blood Sugar Sex and Magik, One Hot Minute, Californication and By The Way.
So, you've got all the hits - Under The Bridge, Scar Tissue, Californication et al. The bonus is that all the videos are first rate - cutting edge, varied, and beautifully constructed and filmed. So much so that they hold your attention from beginning to end. With many 'best of' video collections you can get bored after several tracks. But not with this DVD - it's true eye candy and overflowing with ideas and never getting stuck in a rut.
Not only that, but there's bags of 'extras' - commentaries on each videos, behind the scenes 'making of' features on many of the 14 videos, a meet the band feature, and an excellent 'on the road' featurette.
So if you're a Chili's fan, or are even only remotely interested enough to think about indulging in a Greatest Hits collection, then go for this DVD package - you won't be disappointed. It's awesome quality and value for money.
*****
Review by Pete Whalley
Related>>DVD review
---
| | |
| --- | --- |
| | Print this page in printer-friendly format |
| | Tell a friend about this page |