RAY RUSSELL The Composer's Cut Angel Air SJPCD214 (2006)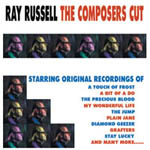 I wouldn't normally review a collection of TV show music, but Russell is a renowned musician and producer who's worked with the likes of Tina Turner, Phil Spector, Jack Bruce, Cliff Richard, Phil Collins and a whole host of others.
Outside of recording and production work, Ray Russell has also composed and recorded large quantities of TV scores, some of which compiled here. Incidental music as well as theme tunes. Largely orchestrated, or with keyboards, while others are more jazzy or blues; the tracks are often moody and atmospheric. Music appears here from shows including Frost, Plain Jane, Diamond Geezer, A Bit Of A Do, My Wondereful Life, Remembering 911, The Quest and others.
So really only of interest to fans of either Russell or the shows included.
Well packaged and annotated though.
***
Review by Joe Geesin


£12.99
Love Again
© 2006 Angel Air Records. All rights reserved.