RAY LAMONTAGNE Trouble 14th Floor Records (2006)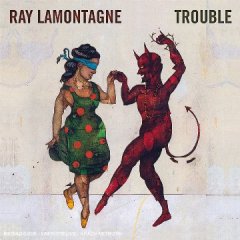 'Trouble' is US indie-folk singer-songwriter Ray Lamontagne's highly acclaimed debut album produced by Ethan Jones (Ryan Adams, Kings Of Leon) which reached top 10 in the UK. You may well have seen in the racks at your local, Woolies, WH Smith or HMV.
Brought up on a cocktail of Stephen Stills, Bob Dylan, Neil Young and Otis Redding, The Trouble album was recorded in just two weeks at Sunset Sounds in LA most of the songs being recorded live with LaMontagne playing guitar and singing and Johns later laying down the drum bass and piano parts.
The title track is radio friendly soft rock of an extremely high quality - somewhere between Ryan Adams, Van Morrison and Otis Redding. Shelter has echoes of Neil Young phrasing, overlaid with Ray's raspy mournful vocals.
The album sounds like a long lost classic from the 1970's, and while comparisons with the likes of David Gray would be understandable, Trouble has none of Gray's glossy sheen. Trouble is raw, sparse and untainted.
Narrow Escape resonates with Neil Young harmonica work and hoarse Ryan Adams vocals. Forever My Friend ups the tempo, while Hannah is beautiful and mournful - think early Rod Stewart ballads with some terrific accompaniment and backing vocals courtesy of Nickel Creek's Sara Watkins.
How Come is the second single to be taken the album and also features in the forthcoming David Frankel film The Devil Wears Prada starring Meryl Streep. It's as rock Trouble gets - a tight groove, some excellent guitar work and Ray's bluesy, soulful vocals.
Jolene is another lovely number, again featuring Sara Watkins on fiddle while Al The Wild Horses wraps the album up with gentle, understated beauty.
Trouble isn't instant gratification. Passion, soul and great song writing need time to get under your skin, but like a well-aged red wine it's the perfect accompaniment for a roaring log fire and the woman of your dreams.
****
Review by Pete Whalley