Well-crafted pop rock...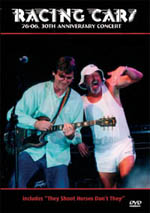 Yep its thirty years since Racing Cars seemed to be on out TV screens for an eternity with arguably their most annoying but ironically enough their most successful song, 'They Shoot Horses Don't They'.
And when you further think about it, this South Wales band have been bucking the trend for three decades. Whether it was fighting off the worse excesses of Punk back in '76 or indeed living down the very song that made them successful, Racing Cars have never taken the easy route.
In fact it can be argued that the sparky lead singer Gareth Mortimer aka Morty is almost solely responsible for the contradictions being a high energy, larger than life character whose persona was actually at odds with the AOR melodic rock that the band played.
'Down Town Tonight' for example, the title track of the band's debut album is a case in point being a fine slice of lilting melodic rock punctuated only by other sole original member guitarist Graham Headley Williams deft guitar lines. The band's live show was always very funky and the impressive 'Down by the River' aka 'Swampy' rejigged here in spirited fashion, is an excellent example of the band's live feel.
Graham adds further impressive guitar lines on the only cover of the set, George Harrison's 'While My Guitar Gently Weeps', before swapping to acoustic for a duo with Morty on 'Potters Blue' and the misspelt acoustic band outing 'Baby Girl'. The band rocks out on another funky live favourite 'Moonshine Fandango' and slip into some smoky wah wah led blues on 'Had Enough Love'.
And all in all nothing much has changed, the crowd still love Morty and the band still churn out well crafted pop rock climaxing in 'Horses' by which time Morty's white summer apparel look as if he's been in a shower for the duration.
Always a great live band, the band packed out this 30th anniversary show and offer timely reminder of both the strength and weaknesses of a classy live outfit who topped the charts almost in spite of themselves.
Complete with crowd and band interviews and a musical prequel from a excellent male voice choir, this is almost as much a celebration of Welshness as the band itself.
***
Review by Pete Feenstra
---
| | |
| --- | --- |
| | Print this page in printer-friendly format |
| | Tell a friend about this page |