QUICKSILVER MESSENGER SERVICE
'Shady Grove/Solid Silver ' BGO Records BGOCD630 (2004)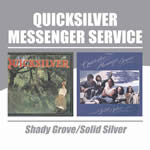 Quicksilver Messenger, for those not in the know, were one of the pioneering bands - along with the likes of Jefferson Airplane and Grateful Dead - who created the US West Coast sound in the mid to late 1960s.
This package sees the strange pairing of their 1969 album Shady Grove - which reached the US top 30 (and their first to feature UK keyboard wiz Nicky Hopkins) and their 1975 'comeback' album Solid Silver.
Shady Groves has an unmistakably late 60's sound but the addition to line up of Hopkins changed the band's direction. While previous releases had been guitar based, this was an attempt at the mainstream with Hopkins beautiful playing to the fore. But somehow the result was less inspired and spontaneous than previous output and their live reputation for blazing guitar work.
Unfortunately, Shady Grove didn't enhance their popularity and went belly up thereafter with constant line-up changes and increasingly inconsistent releases. But Solid Silver brought the original line up back together again after a relatively successful anthology release. And while it's a polished affair - typical mid 70's 'soft rock' - you'd be hard pushed to guess it was the same band in an 'is it butter?' taste challenge.
Solid Silver is the most easily accessible of the two discs for those not familiar with the material, but I'm afaid old hippies never die and this release won't convert any new ones. But if you're into nostalgia or looking to replace aging vinyl, go for it.
***
Review by Pete Whalley