New format gives new life to Queensryche classic...
QUEENSRYCHE Tribe (Silverline DVD-A) (2003)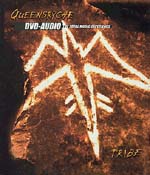 I felt a great satisfaction when I found out that I had to make a review for a band which is partly responsible for making me who I am. Yes, music can be that influential, especially if we are talking about Queensryche. "Tribe" is the new chapter in the history of this great band and as all of you acquainted with the band would expect, an album which will make you say "that's Queensryche" but without reminding you anything of the band's past. This is actually what separates great bands like Queensryche from all the rest. Queensryche never repeated themselves which would be the easiest thing to do, especially with the success that their previous albums like "Operation Mindcrime" and "Empire" had. Still they pushed the limits of their creativity even further and created a new masterpiece. I was really happy to see that Chris De Garmo (guitars) returned to the band and is partly responsible for some of the new songs.
Geoff Tate: What can I say about this charismatic frontman...It only takes a single note from his mouth to bring shivers to my body. Geoff is the best thing that happened to rock music since Freddie Mercury. His performance in "Desert Dance", "The Art Of Life" and "Rhythm of Hope" is divine making the latter one of the best songs ever written by the quintet.
But the same applies for the rest of the band. Eddie Jackson is a fantastic bass player, the silent hero. Always there to provide the solid bass lines that the band needs and co-operate with one of the best drummers around - Scott Rockenfield. As Geoff said, being interviewed in the past, it is quite difficult for a drummer to establish his own personal sound, and Scott has achieved exactly that. Last but certainly not least...Michael Wilton. Most of the weight landed on his shoulders when Chris decided to leave the band but he managed to pull through. He also kept the composition standards high and with the help of his colleagues helped Queensryche not only survive but be in the centre of the music scene with every new release.
Sanctuary Music in collaboration with Silverline will introduce music fans worldwide to this new DVD audio. This format can be played on all DVD players, has a 5.1 surround sound. You will also be able to see the band's new video - a recent live performance of "Desert Dance". There is also a photo gallery and a lyrics section. The main menu contains all ten songs of the album. For each song you choose you can enjoy a beautiful picture - relevant to the songs theme. There is also a section where you will be given instructions as to how you can set up your surround system for better results. The only negative thing is that you cannot read the lyrics of a song while listening to it, but if you skip that it's a great idea. What.. you haven't bought it yet? Are you crazy???
****
Review by John Stefanis
© 2003 All rights reserved.