Just witnessed your best live gig?..send us a review!
QUEEN & PAUL RODGERS
Veterans Coliseum, Jacksonville, Florida
Sunday 5 March 2006
I grew up as a child of the late 70ís/80ís and as such the radio (MTV had not been invented at that time) stations were dominated by the likes of "Led Zepplin", The Beatles, and The Rolling Stones just to name a few. I remember sitting in art class and listening to a song that was played over and over on what was WPLJ then. The song was Bohemian Rhapsody. Besides for "Stairway to Heaven" no other song this long would be played on commercial radio. But this group was different, this was Queen. Many rock groups came and went throughout that generation. My generation!
Queen had the right ingredients to hold their place among rockís royalty. The Musicianship that each member possessed could have provided them their own solo career if they so wished. The three part harmonies that were employed on many Queen tracks throughout the years still impress in this time of pop and rap. The dedication to the music was never in question.
I can recall listening to an interview with Brian May and Scott Muni on WNEW the day Brian's dad passed away and it occurred to me during that interview that Brian was more than just a guitar player in a successful band, he was a man of his word, a man of virtue who put others before himself.
I mean, his dad, the only dad he ever had, the one who built the famed "Red Special" with him, one that he looked up to all of his life had passed away and he still did the interview. He didn't drink or do drugs and he deserved to be respected. The lyrics of his songs took on a new meaning for me that day. When we talk about role models, musicians in rock bands seldom come up, but perhaps if more people in the industry displayed the qualities that Brian May does, we'd have more young people inspired to celebrate life and love instead of death and violence.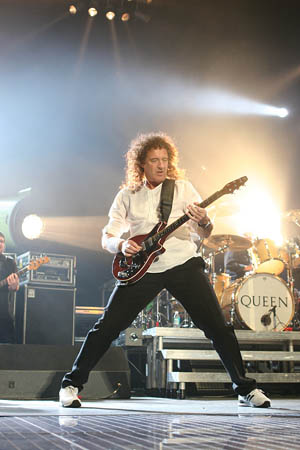 Since Freddie Mercuryís untimely passing in 1991 there has been a huge gap in what was prior a solid musical dynasty. On November 23rd Freddie announced to the world that he had Aids. He quietly passed away the next day surrounded by family and his closest friends. This was particularly troubling to me as my own brother had just recently passed the same way. To this day, every time I hear "The Show Must Go On" I think of him and Freddie, and smile.
My first observation as we were led into Veteranís Memorial Stadium was the empty seats. Why were there so many empty seats? Was it the hefty ticket price? Was it well promoted? It seems as we have more country stations in town lately, perhaps the Jacksonville market was a little more country than rock & roll? Didnít people realize that Queen was in town perhaps for the last time, EVER! Or perhaps when folks heard it was Queen + Paul Rogers they thought it might not be authentic Queen. Iím here to inform those people that they missed a great show.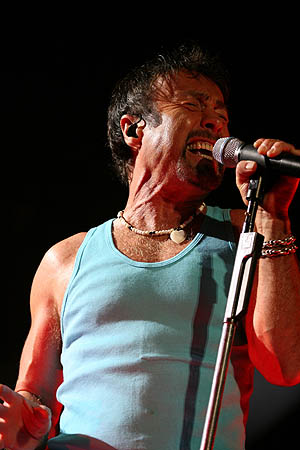 I had the opportunity to see them last October prior to the North American tour their playing now. During a press conference Paul was asked. "Paul, how do you feel about replacing Freddie Mercury? Paul looked up, smiled and told the gathering of press, "I am not replacing Freddie, I am celebrating his music". Ask anyone who attended this show and they will tell you that it was in-fact a celebration. Even with the empty seats, Paul Rogers, Brian May, Roger Taylor and new additions, Danny Miranda, Jamie Moses and Spike Edney played to the Jacksonville crowd as if it were a sold out Wembley Stadium. The bonus was a two for one. In addition to a well picked Queen song list, the super group performed Rodgers songs from Bad Company and Free. In-fact the show was put together so well that the crowd was on their feet and singing to every song.
The mix of natural styles between Rodgers and Queen resulted in soulful rock with raw emotion. It was absolutely worth more than the price of admission, and the event of a lifetime.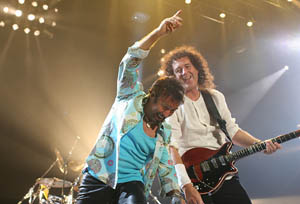 As for Bohemian Rhapsody, Freddie Mercury was present in spirit and on video during the performance of this rock classic. No one who attended the show will ever forget Mercury. The members of Queen + Paul Rogers wants it that way and so do I.
Set List
Reaching Out - Tie Your Mother Down - Dragon Attack - Fat Bottomed Girls - Take Love - Crazy Little Thing Called Love - Say It's Not True - '39 - Love Of My Life - Hammer To Fall - Feel Like Makin' Love - Drum Solo - I'm In Love With My Car - Guitar Solo - Last Horizon - Bad Company - Another One Bites The Dust - These Are The Days Of Our Lives - Radio Ga Ga - Can't Get Enough - The Show Must Go On - Bohemian Rhapsody
Encore
We Will Rock You - All Right Now - We Are The Champions
Story and Photos © 2006 by Steve Janowicz