Just witnessed your best live gig?..send us a review!
QUEEN/Peter Frampton
Aruba Festival , Oranjstad, 7-8 October 2005
As I arrived in Aruba for the "Aruba Music Festival" held for the 4th time, I wondered how the songs I grew up with would sound with someone else singing them. Would it be sad to hear a different style applied to such classics as Bohemian Rhapsody, Another One Bites The Dust or We Are The Champions?
I've seen Queen cover bands before and even recently watched Rhapsody performed on TV's Rock Star, INXS. No, I seriously doubted anyone could bring justice to the songs that reminded me of high school in New Jersey. I was wrong!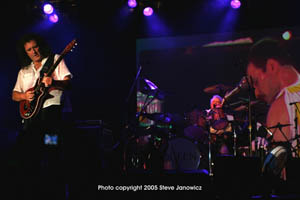 © 2005 JANOPHOTOS
Since Freddie Mercury's untimely passing in 1991 there has been a huge gap in what was prior a solid musical dynasty. Queen formed in 1971 and signed with EMI in 1973. They released their first album that same year titled "Queen". 18 albums later, Queen was on the top of the rock world selling out stadiums world wide.
On November 23rd Freddie announced to the world that he had Aids. He quietly passed away the next day surrounded by family and his closest friends. This was particularly troubling to me as my own brother had just recently passed the same way. To this day, every time I hear "The Show Must Go On" I think of him and Freddie, and smile.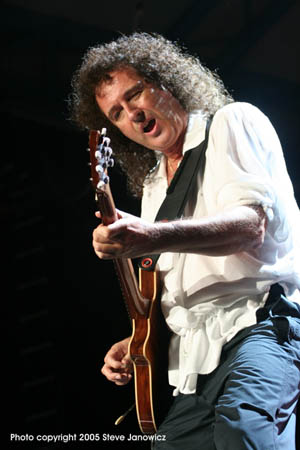 © 2005 JANOPHOTOS
As I was zoning out in my plane seat it occurred to me, the show must go on! Enter Paul Rodgers. Who could fill Freddie's gap? Who would even try? The question was asked at the press conference on that Saturday afternoon, "Paul, how do you feel about replacing Freddie Mercury? Paul looked up, smiled and told the gathering of press from the international community, "I am not replacing Freddie, I am enjoying performing his music".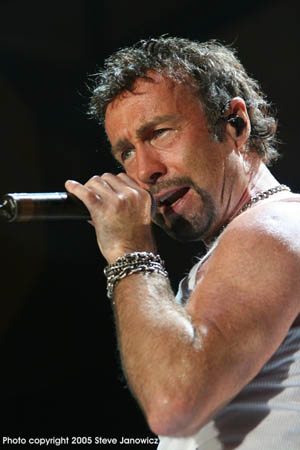 © 2005 JANOPHOTOS
In my opinion, there is no one who could pull off singing Freddie's songs other than Paul Rodgers. In addition to performing Queen tunes, Brian, Roger and new additions, Danny Miranda, Jamie Moses and Spike Edney played Rodgers songs from Bad Company and Free. In-fact the show was put together so well that the crowd was jumping and singing to every song. Even when Brian took to the acoustic guitar to play "one of Freddie's songs, he barely had to pick the first few notes before the fans of the 21 countries and 70 different nationalities practically sang the entire song for him.
The wait was over and the show was most definitely going on. Roger Taylor got out from behind the drum kit to sing a couple of songs as well. The mix of natural styles between Rodgers and Queen result in soulful rock with raw emotion. As for Bohemian Rhapsody, let's just say Freddie Mercury is alive and kicking in spirit during the performance of this rock classic.
If you get the privilege to catch one of the two scheduled US dates in New Jersey and California, take it! It is absolutely worth more than the price of admission, and the event of a lifetime.
Peter Frampton is still rocking…amazing . . . emotionally significant performance. These are a few of the thoughts that enter as I left the Aruba Arena after Peter's Aruba Music Festival performance.
As the festival opener and only two weeks after his father's passing and two years after the sudden death of his musical sidekick Bob Mayo, Peter Frampton sounded as good as ever. If you closed your eyes you could almost picture him as you remembered with his long curly hair and quintessential 70's arena style.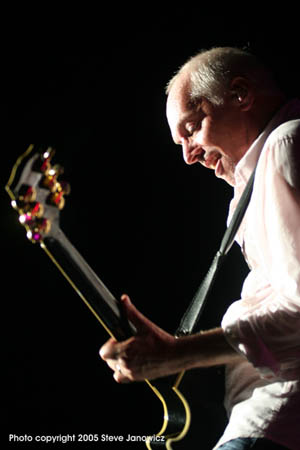 © 2005 JANOPHOTOS
With so many 70's and 80's acts trying to make a comeback and recapture what was, Peter, now the veteran performer is more like a vintage wine which gets better with time.
As he performed the acoustic "By Your Side" he changed the words from "I don't care if they cut my hair" to "I don't care that I've lost my hair" making fun of himself as the international crowd responded with a heartfelt roar. Yes, Peter Frampton started the Aruba Music Festival off with a bang playing for two and a half hours before calling it a night and telling the crowd that "Aruba's gotten a bum rap" He went on to say that he was staying for a few days and flying the wife in. Why not? With his old buddies from Queen and Bad Company in an exotic setting, what's not to like?
I've seen the 80's, 90's and 2000's Frampton and I for one hope he keeps the fire into 2010. Thank You Peter, for a great show!
Story and Photos by Steve Janowicz