Mod history given double DVD treatment...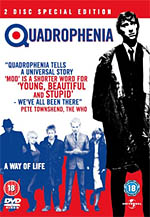 The Who's Quadrophenia is one of the Mod rockers' classic albums, some top quality Who and a documentary of the early 60s movement.
Rather than follow in the rock opera template of Tommy, a film was made, telling a story of gangs, pill popping, violence, acceptance, alienation and the fights between the Mods and the Rockers.
Filmed shortly after Keith Moon's death in 1978, the film was left by Townshend in the hands of the producer and he did a damn fine job, and one of the keys was in the choice of actors.
Many of those used were largely unknown or perhaps only just emerging, with the lead taken by Phil Daniels (now in East Enders), there's also Toyah, Sting, Leslie Ash, Ray Winstone and Mark Wingett (The Bill, and an actor I think a great deal of).
And alongside the music of the Who, there's much more music from the era to add to the mood; spot plenty of posters for The Yardbirds.
The second disc is full of extras, commentary and the like, including copious interviews with the actors and producers. Stories aplenty about the recording and filming, from the fights in Brighton to the rehearsals in north London where the crew hung out with real Mods to learn the lifestyle, the dance moves, and even time at Hendon's police college to learn to ride scooters.
All the dirt too, Wingett turning up for filming with inappropriate love bites, Sting's atrocious attempts at dancing etc.
Basically, these bonus interviews give amazing insights into the actors, film making and of the life of the kids at the time, while leaving the original remastered film on disc 1 which is all that many may want.
And it's fun to see so many household names as teenagers.
****
Review by Joe Geesin