How to become a pub bore...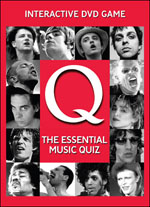 OK pop pundits. Gather ye round the DVD Player during the festive season, And in between chomping your nuts, you can pit your wits against the Q Quiz.
Most pop people like a good test of knowledge and this disc, released to coincide with that mag's 20th anniversary, will surely satisfy.
Split into eight categories, the quiz includes straight questions with no audio and questions with audio and video. For the brave you can take the Q Essential Quiz that scoops up 120 questions from the eight categories or you can home in on topics like Q Radio, Rewind and Excess All Areas. Each round is totalled.
For the fainthearted, or perhaps those too bloated with festive food, there is a Quickfire 20 which as suggested allows you to have 20 random questions from all sections
The acid test of an interactive quiz is always going to be ease of use and durability. There are allegedly over 800 questions.
One navigational gripe is that once taking the quiz you can't get back to the main menu until finished, although there are only 15 or 20 questions each time. Ours was a test disc so this might be different on the finished item.
The questions will certainly test the grey cells of all but the most nerdy pop picker, and although drawn from all eras of music - not just the 1986-2006 period of Q's ascendancy - there does seem to be an emphasis on the eighties and nineties.
So if those two decades passed you by, you'll need help from someone younger and more sober.
This DVD is also educational, the section 'Undercover' gives obscure facts about our musical heroes that you can save up for future use. Yes, you can become the proverbial pub bore! You mean, you're not already?
Whilst this DVD is mildly entertaining and would make a welcome stocking filler for the Q (as in Quiz) Fan, I couldn't help thinking that it might have been better as a 20th anniversary cover mount. Coincidentally, at the time of its release 'Classic Rock' magazine offered something similar to celebrate their 100th issue.
***½
Review by David Randall