VARIOUS Purple People Purple (2005)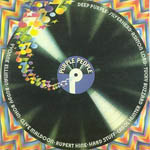 Now how annoyed am I? Thaaaaaaaaaaaaaaaat much. Thanks to a bookcase being moved, this lovely, lovely CD fell down the back, not to be discovered until many months later. Gits.
Now I have my lovely original vinyl copy of "Purple People" which was issued back in 1973 when Deep Purple were going through the motions of trying to persuade people that it wasn't just a vanity label. And it wasn't really. OK, some of their old mates got deals, but they cast their net far and wide, and snagged a diverse bunch of artists.
Of course, they wanted people to buy the thing, which is why it kicks off with "Smoke On The Water". Yes, even in 1973, it was the marketing mans dream choice. Then it's in to vanity label part 1 with Tony Ashton joining in with Jon Lord for a track of their "First Of The Big Bands" album. An album well worth revisiting, incidentally. Then, one of my favourites, as Atomic Rooster offshoot Hard Stuff offer up a funky little number, "Libel". And when will the Hard Stuff albums be reissued I hear you cry? Well, petition Purple Records and see what happens!
Then it was on to some of the more diverse signings with Rupert Hine going all J J Cale on us, Yvonne Elliman going all West Coast folky, the dreadfully named Tucky Buzzard provide some dull, bland seventies soft rock before the glorious Silverhead pop us to remind us what rock and roll is all about. Their debut album still gets regular plays on the old turntable and usually provokes a bad Michael Des Barres impersonation.
In case listeners were panicking, Purple themselves reappeared with the rare (for the time) B-side, "When A Blind Man Cries" before Yvonne Ellima gets an inexplicable 2nd number. Granted, it's a lot better than the 1st, but then it is a cover of The Whos "I Can't Explain" complete with Pete Townshend guitar solo.
Obscurity time next with Clive Malsoon (formerly of Curtiss Maldoon) providing "Clouds In My Hair", which is surprisingly enjoyable in a Chas'n'Dave kind of way. The album closes out with another couple of obscurities – Buddy Bohn performing "Vermouth Rondo" which would fit nicely into Richie Blacmores 2005 repertoire and "Look Out Cleveland" by Carol Hunter which just shows that her erstwhile employer Neil Diamond was right to perform his own material. And that was that. An odd sampler, like so many in the seventies.
But this reissue is filled out with another 8 tracks for your listening pleasure. Well,listening. Luckily for me it's Bullet who kick things off with "Monster In Paradise". The band who would become Hard Stuff rock up a storm. Old pal Tony Ashton gives up one of his patented honky tonk piano numbers, the Madonna sampled Curtiss Maldoon appear (which prompted me to dig out the vinyl, more bloody Yvonne Elliman, then a section of Jon Lords "Gemini Suite".
Obscurity time again as the never released single by Bunter, "Looking Back" appears, all sixties psych and hi-hat. As it was 1971, that could explain why it was shelved. The truly awful sub Donovan combination of Rupert Hine and David MacIver is next, before things close down with the legendary Jon Pertwee single "Who Is The Doctor". I'd like to warn you about how bad it is with David MacIver adding lyrics to the Dr Who theme tune for Jon Pertwee to speak. Abysmal!
The CD has the usual fabulous Purple Records sleeve notes, Purple Records discography, rare sleeves and pictures, although that creased copy of "Bolex Dementia" looks like mine:-) Not for the casual punter, but Purple completists will lap it up.
****
Review by Stuart A.Hamilton
Full track listing:
1. Smoke On The Water - Deep Purple
2. Celebration - Ashton, Tony & Jon Lord
3. Libel - Hard Stuff
4. Hamburgers - Rupert Hine
5. Hawaii - Yvonne Elliman
6. Gold Medallions - Tucky Buzzard
7. Rolling With My Baby - Silverhead
8. When A Blind Man Cries - Deep Purple
9. I Can't Explain - Yvonne Elliman
10. Clouds In My Hair - Curtiss Maldoon
11. Vermouth Rondo - Buddy Bohn
12. Look Out Cleveland - Carol Hunter
13. Monster In Paradise - Bullet
14. Sloeback - Tony Ashton
15. Man From Afganistan - Curtiss Maldoon
16. Love's Bringing Me Down - Yvonne Elliman
17. Gemini Suite Vocals - Jon Lord
18. Looking Back - Bunter
19. Monk - McIver & Hine
20. Who Is The Doctor - Jon Pertwee