PROTO KAW 'Before Became After' Inside Out 08560652 (Released 29.03.04)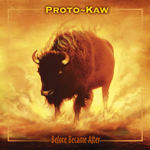 Interesting release this, as the line-up is the original Kansas, but not the Steve Walsh fronted one but the 1971-73 line-up. Kerry Livgren is here on vocals/guitars/keys/lyrics from what most fans will associate with Kansas plus vocalist Lynn Meredith, John Bolston (sax/flute), Craig Kew (bass/vocals), Brad Schulz (drums) and Dan Wright(organ/keys/vocal). The album has that early Kansas feel as Livgren composed all the music on here and where Robbie Steinhardt's violin is a feature of Kansas, so is the flute/sax of John Bolston. But this is a new album, not some long-lost recordings.
Instrumental workouts area key feature none more so than 'Leaven' where guitars interweave with keys/flute and solid drumming. In fact this album could well have come from the 70's heyday of progressive rock albeit with a modern production. Vocalist Lynn Meredith has his own style, rather than aping Steve Walsh and he's very melodious on the slower numbers like 'Axoloff'. With Livgren writing the lyrics you'd expect religious leanings and 'Heavenly Man' obliges. Don't be put off by this as it's not preachy in anyway.
Hopefully this will be an ongoing band as there are many interesting musical avenues the band could explore in the future. Don't expect Kansas but do expect a very fine album of progressive music.
***
Review by Jason Ritchie