Comprehensive trawl through Primus history...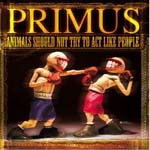 Primus is the brainchild of Les Claypool, one of the craziest guys in the music industry. His ambition was to form a band which would deliver a new proposition to the music world, something he achieved with the help of two unique musicians: Lary LaLonde (ex Possessed) on the guitars and Tim Alexander on the drums.
The result of the collaboration of these three artists is music based on funky bass tunes and weird vocals (both performed by Les Claypool), combined with clever guitar melodies and powerful drumming. The influences of Primus are so many and so different that they're almost impossible to detect, and that's what makes this band so special. I would say that listening to Primus for the first time feels like being a non-British person watching his first Monty Python movie!
The band's first album was "Suck On This"(1989) which was recorded with a loan of Les' dad. The album was originally released through Prawn Song Records (the band initially pressed one thousand vinyl copies) and contained songs such as "John The Fisherman" and "Tommy The Cat". In 1990 the band returned to the studio and recorded "Frizzle Fry" which contained the songs from "Suck On This" and a couple of extras.
Even though the loyal fans of Possessed have renounced Lary LaLonde for his participation in this project, the band continued recording weird albums such as "Sailing The Seas Of Cheese"(1991), "Pork Soda"(1993) which is considered to be the band's most popular album, "Tales From The Punchbowl"(1995), "Brown Album"(1997), "Rhinoplasty"(1998) and "Antipop"(1999). The band made plenty of videos in order to promote their music to ! wider audience, but somehow MTV never played any of them more than twice!
"Animals Should Not Try To Act Like People" DVD is a compilation of all the videos of the band. If you feel brave enough you can watch all thirteen of them - I would definitely recommend: "John The Fisherman" (no I'm not !!!), "My Name Is Mud" (don't know what they were thinking when they made this video), "Mr.Krinkle" (if you manage to count all the actors playing in this video, I will never write another review), "Wynona's Big Brown Beaver"(???) and the amazing video for "The Devil Went Down To Georgia", one of the best videos I've ever seen and an excellent cover too!
The DVD has over two hours of extras including bootleg live performances covering every era of the band's career, backstage footage, a discography link, documentaries, rarities and commentaries.
There is also a five track CD featuring the original line up of the band (Les Claypool:Bass/Vocals, Lary LaLonde: Guitars and Tim Alexander: Drums) performing new studio recordings, with "The Last Superpower aka Rapscallio" being my favourite!
Primus is one of these bands which need to grow in you and even then they are not considered to be easy-listening. No-one though can deny that Les Claypool is a music genius and that the technical skills required for someone to play their songs are enormous!
It took me awhile to get used to them, but now I can definitely say that they deserved the effort.
***
Review by John Stefanis