Chrissie and co. caught in their underwear...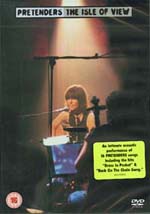 Recorded in 1995 when going 'unplugged' was still in vogue, this DVD catches Chrissie Hynde and co naked. That is, the songs stripped down to their underwear with no electric guitars and the Duke string quartet in tow.
It's at moments like this that you discover just how good an artist is - both as performer and a songwriter. And make no mistake - Chrissie Hynde is up there with the best. Her canon of songs more than stands up to this close scrutiny, in fact, many arguably outshine their 'plugged in' versions.
Chrissie is in fine vocal fettle throughout, ably abetted by co-Pretenders founder Martin Chambers on drums and the rest of the Last of The Independents (and since) line-up Adam Seymour on guitar and Andy Hobson on bass. But it's the addition of the Duke Quartet that brings out the subtleties and nuances of hits such as Back On The Chain Gang, Kid, Brass In Pocket, 2000 Miles, amongst others.
For a DVD release the disc is disappointingly only 67 minutes long (it was originally made for TV) with no bonus material. But the saving grace is the quality of those 67 minutes. It's well photographed, the sound quality is excellent and the performance top notch.
If memory serves correctly, neither the original TV transmission nor the accompanying CD release included the final track - Night In My Veins (I assume it wasn't considered retrospective enough - coming from the (then) current album Last Of The Independents). Which is a 'bonus' of sorts, because it's one of the best tracks here and previously only available in this format as a single B-side.
If you're a Pretenders fan, this is a must have. Recommended.
****
Review by Pete Whalley