'ello, 'ello...what's all this then...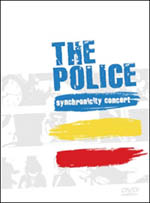 The Police. Great band. Synchronicity. Great album (and arguably their best). Synchronicity tour. A band at their commercial peak. And then it was over. The band imploded. Sting went onwards and upwards. And the rest, as they say is history.
What a wonderful opportunity therefore to revisit those heady days of the Synchronicity World Tour in November 1983. What a canon of songs. Nineteen absolute gems spanning their 5 album career are captured on this DVD originally directed and edited by Godley and Crčme.
It opens with a blistering rendition of Synchronicity I with clever use of camera shots of the band and audience underlining the synchronicity theme. Several things hit you – how young Sting looks, what a powerhouse and fundamental part of the Police sound Stewart Copeland was, and just how good they were live with just bass, guitar and drums (and backing singers - nice fishnets, girls).
The band power their way through hit after hit – they're all here – Can't Stand Losing You, Message In A Bottle, Walking On The Moon, So Lonely, De Do Do Do, De Da Da Da, Every Little Thing She Does, Spirits In The material World, Every Breath You Take, Wrapped Around Your Finger, and King Of Pain.
The musicianship throughout is excellent and as the show progresses you realise that The Police sounded like no one else before or since. And as musicians they each contributed equally to that sound. There's plenty of Sting led audience participation although the audience shots do become a bit wearisome – gurning young mid Americans is not a particularly pretty sight.
The DVD features three different audio tracks – dts, Dolby Digital 5.1 Surround Sound and 2.0 Dolby Digital Stereo.
Bonus material includes the original theatrical trailer. It doesn't add a great deal of value, but is nice touch. There are an additional four multi angle tracks – Synchronicity II, Roxanne, Invisible Sun and Don't Stand So Close To Me. But while my dvd player registered 4 angles I could only access one – although that could be my lack of competence. Also included is a brief interview for the Australian 'Countdown' programme after the final 1984 concert of the tour (and as it turned out, their last ever). Interesting to get their 'take' on the future of the band. You get the impression Sting knew exactly where he was heading, Stewart Copeland had a pretty good idea, and Andy Summers was completely in the dark.
Some of the video editing is a bit naff in places. For example, on So Lonely, there is constant switching of zoom setting as if the cat is sitting on the dvd handset. And the strobe effects on Spirits In The Material World are almost guaranteed to induce a blinding headache. But overall, and considering this was shot 22 years ago, its pretty damn fine. Nevertheless, one for Police fans only I think.
****
Review by Pete Whalley