POISON Reissues EMI (2006)

Love them or hate them, Poison are one of the most popular bands of their genre, and are still successfully touring as we speak. The band is on their 20th anniversary tour and their first three, and most successful, albums have been remastered and reissued, along with bonus tracks.

1986's Look What The Cat Dragged In, featuring the hits "I Want Action" and "I Won't Forget You" sounds as good as the first time I heard it with bonus tracks being alternative versions of the above mentioned songs along with "Don't Mess with Jim". ***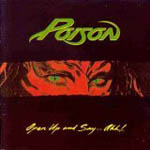 Open Up and Say...Ahh!!, originally released in 1988, was the band's real commercial breakthrough and spawned the massive hits "Every Rose Has It's Thorn", "Your Mama Don't Dance" and "Nothing But A Good Time". This album still remains one of my favourites and I had forgotten exactly how good it sounds.
The bonus track "Livin' For The Minute" was a B-side in the UK and I had always wondered why it had never made the album as it is classic Poison, as is the additional "World Premier Interview" tagged on the end of the album. *****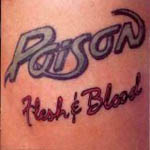 By 1990 the band could do no wrong. Flesh and Blood was another major success. Tracks such as "Unskinny Bop" and "Something To Believe In" became huge hits and the band's success led them on their biggest tour.
The bonus tracks here are an alternative/acoustic version of "Something To Believe In" and an instrumental version of The Sex Pistols "God Save The Queen". ****
Unfortunately for the band the next few years involved a number of guitarists replacing the irreplaceable CC Deville; there were albums and tours but it wasn't the same. However, the original line up reformed in the late 90's and have continued to sell out tours ever since. As I said at the beginning of this article, you either love or hate Poison- but you cannot deny that they can write one hell of a classic song.
Review by Nikk Gunns