POISON The Best Of Poison
EMI/Capitol (2006)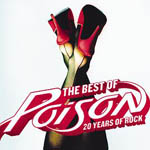 Love them or hate them, Poison were one of Americas more successful 80's rock bands, charting on both the rock and pop charts and with numerous sell out tours and awards.
This new compilation has all the hits and fan favourites as well as a brand new recording, Grand Funk Railroads 'Weíre an American Band' produced by Don Was (more recently seen working with The Rolling Stones).
Tracks include 'Your Mama Donít Dance', 'Unskinny Bop', 'Something To Believe In' and obviously the worldwide hit 'Every Rose Has Itís Thorn'. There is also a cover of Kissí 'Rock and Roll All Nite', this was originally recorded for the 'Less Than Zero' soundtrack and has not been previously released on a Poison album.
A great collection for fans or a great introduction to the band, who are about to embark on their 20th Anniversary Tour (hopefully World Tour!!!) with Cinderella- who are also celebrating their 20th Anniversary.
****
Review by Nikk Gunns