PLANET OF WOMEN 'Waking Up The Neighbourhood'
CD single (2005)

Planet Of Women. The name conjures up late sixties Russ Meyer soft porn flics. And their PR does nothing to dispel that image - 'Like your rock pretty dirty … ? Like your rock bands pretty and dirty …?'

Planet Of Women are, in fact, the latest in a long line of female fronted rock bands. But this time with not one, but three – yes three - female vocalists. Heralded by Kerrang and the likes as a Darkness-like pastiche of AC/DC fronted by Tina Turner/Janis Joplin.
It's not an easy one to pull off. Many have tried and failed – if my grey cells serve me well, there was an Aussie band called Cheetah who attempted it in the late 70's. But they were overtly commercial, failing to achieve that delicate balance of critical acceptance by both pop and rock fraternities.
And that's where the problem perennially lies – every hot blooded rock fan likes a bit of flesh, leather and lace but while there have been many wonderful female vocalists down the years few have managed to successfully break into that male dominated world of rock.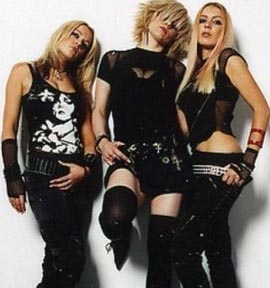 Waking Up The Neighbourhood is Planet Of Women's debut single. And before you even press play the omens look good. The cover suggests Planet Of Women are indeed sexy, sultry and have attitude. Even their logo oozes sex appeal. And the song explodes out of the traps – produced by Ace (ex Skunk Anansie) and mixed by Dan Spigg (Lost Prophets) – it has a sixties Stones rock and roll feel but delivered in a Darkness 'in your face and over the top' style. Lead singer Jade's vocals are hot enough to strip paint.
The single includes a demo of I Don't Care (a Zeppelin groove with more searing vocals). It also includes the video of Waking Up The Neighbourhood which suggests that Planet Of Women would be a riot to see live (they've had excellent reviews supporting Thunder and apparently play a mean acoustic set as well).
So, pretty and dirty? You bet. Up and coming rock-goddesses? Quite possibly. Good time rock and roll? Damn right.
****
Review by Pete Whalley