PETRA JEAN PHILLIPSON 'Notes On: Love'
Gronland Records (2005)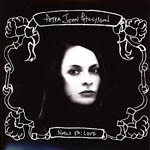 Produced by ex Verve guitarist Simon Tong, Notes On: Love is Petra Jean Phillipson's debut solo album and includes both singles released to date – Independent Woman and One Day.
You can be forgiven if the name isn't familiar; Petra Jean's main claim to fame is being the singer for David Holmes Free Association. And to be fair, that's not very famous.
But Notes On: Love could change that. And while it's unlikely to propel her to mega stardom it should generate a cult following. Particularly with fans of that other PJ – PJ Harvey and Nick Cave. Because the album has the same brooding, quirky storyteller's feel of Harvey/Cave material. And it's equally well delivered.
Throughout, the instrumentation is sparse – only being used to add weight and feel. There's nothing here that doesn't add value. And Petra Jean's delivery is very similar in style to PJ Harvey – spoken or sung, you can feel the emotion pouring out.
I Want The Impossible opens the album – a slow number with sleepy drawled vocals over acoustic and prominent bass. One Day ups the tempo – with drums this time and a wonderful catchy chorus with haunting backing vocals. Independent Woman is another undiscovered gem – a brooding strident atmospheric piece. It would fit perfectly on PJ Harvey's To Bring You My Love.
Billy Steaks is a predominantly guitar and bass ballad, Nothing If Not Writing Time a beautiful song with haunting playing and wonderful backing vocals. I'm Lying a slow drawl, Into My Arms a Nick Cave cover.
And so it goes on, although for me, the album seems run a bit out of steam towards the end. The hidden outtake though - what sounds like an acappella Gaelic number - demonstrates just what a talented vocalist Petra Jean is.
To be fair, the album is a 'grower', getting under your skin and better and better with repeated listens. It takes a little perseverance but its well worth the effort and suggests the album will probably stand the test of time better than most. So while Notes On: Love is unlikely to make Petra Jean a household name it's a must for anyone of a PJ Harvey / Nick Cave persuasion.
****
Review by Pete Whalley