PETER HAMMILL Chamelon In The Shadow Of The Night Charisma/EMI (2006)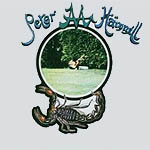 A measure of the salient role played by Hammill in the development of Van Der Graaf Generator was his enabling a graceful transition to solo status after its (first) collapse without compromising the band's famously 'big' ideas.
'Chamelon', the first in a welcome reissue programme of the Hammill Charisma catalogue, marked his first home-studio production, a state-of-independence he was to maintain throughout his career, recognising self-sufficiency to be essential to the survival of his esoteric output.
It's a melting pot of acoustic songs, sprawling band workouts (with old VdGG mates) and a premier wig-out in the sinewy 'Rock & Role'.
There's plenty to keep the old fanbase happy as well as engage the newcomer to this extraordinary and individual talent whose booklet notes provide inevitably useful context and insight.
Bonus tracks here include the 1967-penned 'Rain 3am' and a couple of songs from the album released on a 1978 bootleg of a concert in Kansas that emote the charge of Hammill's work even more fiercely than their studio counterparts.
***
Review by Peter Muir
Related>> Album review
Related>> Album review (Van Der Graaf Generator)
---
| | |
| --- | --- |
| | Print this page in printer-friendly format |
| | Tell a friend about this page |