PETER FRAMPTON 'Now'
(Framptone Records/33rd Street Records 3321) (2003)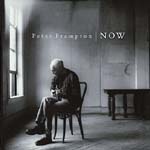 Great to welcome back one of the true greats of rock, and good to know he's a Brit even though exiled in the USA for a couple of decades. Once the "Face of 68", Peter Frampton found fame with Humble Pie and then, dramatically, took the pop charts by storm with his brilliant crossover success 'Frampton Comes Alive' (the best-selling live album in history) and became infamous for his use of the guitar vocoder.
Well, there's been a fair amount of dust under the guitar bridge since then, and for the next couple of decades Frampton kept a fairly low profile surfacing occasionally for some self-spun album projects sold off his website. In 2003 he's still showing the way with "Now" another independent production from the depths of his high-tech home studio in Cincinatti.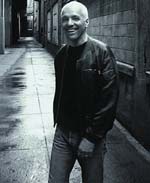 If Fleetwood Mac and The Eagles can make a comeback then so indeed can Peter Frampton. Similarly, he came out of that late seventies swoon for guitar based melodic rock. "Now" will appeal to all his closet fans, who hopefully will actually come out from the closet to acknowledge their hero. It might not win many new listeners but the uneducated would do well to get acquainted with this cohesive offering with the emphasis on songs, rather than guitar heroics. The album does repay repeat listenings, although those in need of a quick fix would do well to check out the end bit of "Hour Of Need" and "I'm Back" an upbeat affirmation of his return with a nice rolling guitar riff and solo. Elsewhere there is a definite sixties/seventies-legacy feel to some of the tracks.
Frampton is aided on the album by long-time sidemen Bob Mayo and John Regan and his writing collaborator Gordon Kennedy. There's a great cover of the done-to-death "While My Guitar Gently Weeps" - it suits Frampton's gentle vocal delivery but it's really a showcase for his guitar work, whilst the instrumental 'Greens' is a shade Beck-esque but a gem nevertheless. Overall, though, this album marks a return to form and focus. And, mercifully, not a vocoder in sight.
I'm Back
© 2003 Peter Frampton/Framptone/33rd Street Records. All rights reserved.
****
Review by David Randall