PETE YORK Into The Furnace
Angel Air SJPCD208 (2005)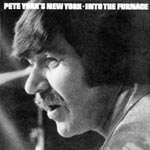 Original Spencer Davis Group drummer Pete York spent the 70s playing in various projects, including Chris Barber's jazz band. That might explain some of the jazz leanings on this 1980 album, originally a European only release.
There's a funky influence too, in a most enjoyable way, with the four-piece comprising drums, bass, keyboards and saxophone/clarinet, there's no guitar!
The cover of the SDG classic "Gimme Some Lovin'", a nice but different take on the song.
The Jazz is experimental in places, progressive in others, but not too deep; it remains enjoyable. Touches of Focus in places. And as usual there's a plethora of sleevenotes and extra tracks. Worth a listen.
***
Review by Joe Geesin


£12.99
Ways And Means
© 2005 Angel Air Records. All rights reserved.