PEPPERCORN 'Barefoot' Full On Entertainment FULLON0084 (2003)

After a split with mainstream label Arista, Peppercorn (aka Ikwo Molokwu and once described as a Jah Lara Croft) has gone it alone with her re-issued first album 'Free Love' which originally picked up rave reviews, melding as it does traces of female angst and in-your-face literalism (Alanis Morissette) with a deft commercialism (Sheryl Crow/Aimee Mann) and mature storytelling (Tracy Chapman/Joan Armatrading).

'Barefoot' - with bonus tracks and video - will have you hooked after a couple of plays. Produced by Mark Smith (David Gray, Neneh Cherry,Shania Twain,Robbie Williams) the album is full of fine melodies and choruses and sometimes introspective lyrics.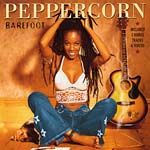 The single 'Hyperventilating' has hit written all over it with a great chorus; the same can be said of 'I Care', 'Karma' (a lovely slow ballad with strings also featured in bonus acoustic form) and 'Brutal' (a beautiful affirmation of unrequited love 'I'm brutally in love with your children/ Even though you won't let me have them/ I'm brutally in love with you/ Brutally,totally,stupidly')
'Nice To You' is an auto-biographical stab at the music industry and has an infectious Paul Simon 'Graceland'-era style rhythm and rap. 'Destiny' features world chant harmonies and perfectly reflects Peppercorn's culture-crossing credibilities, a Moroccan girl born of Nigerian parents, living in London, and making records in New York.
If you want a glorious soundtrack for the summer get this, now.
Website
*****
Review by David Randall

Hyperventilating
© 2003 Full On Entertainment. All rights reserved.