PEOPLE ON HOLIDAY Is It A Gnu? (2006)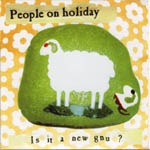 Intriguing. A mix of three young French musicians, quirky lyrics (sung in English), the zaniness of Zappa (including jazz based lightening quick time changes), the angst of Radiohead, and Jim Morrison meets Talking Head lead vocals. And if that's not enough there seems to be an obsession with sheep.
When Is It A Gnu landed on my doormat I frankly wasn't sure what to expect - va va voom or another consignment for the recycling bin.
The album opens with Omnium and the Zappa connection is immediately apparent, as are the Talking Heads vocal references. The playing is sharp and the production crisp – prominent bass, drums, vocals, marimba and xylophone layering before a frantic chorus.
Don't Forget Your Parachute nods to the Beatles Pepper period, while I Am An Exile is how Bowie might have sounded if he was in his Man Who Sold The World. Elsewhere the madness and approach of Sparks springs to mind (Cartoon Cavalcade).
The second 'side' is curiously titled Fate in the Gnu civilization, but the content is more experimental jazz based rock excursions. You get the feeling People On Holiday are just that - playing the music they like in the way they like it, and if you happen to enjoy it well that's a bonus. It's a reminder of just wjat talent there is out there if you scratch below the surface of the HMV CD racks. There's clearly a huge amount of talent on offer, but I can't help but feel their forte may be live performance.
***
Review by Pete Whalley