Essential Paul Weller...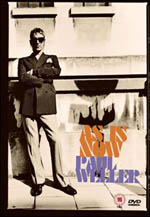 Hot on the heels of the As Is Now album, Paulís best work in quite a while, and the more recent live album, this DVD features interviews, live material and studio tracks.
The documentary part features interviews with the band, including Weller, about the making the album, hot off the previous tour while the band were still hot.
Montages of video shot in the studio and on stage with commentary and interviews are fun, in places interesting but not that enlightening.
The 30 minute one on one interview with Weller is far more worth while and in depth.
Other bonuses aside, the main feature is 10 tracks recorded live at The 100 Club in September 2005. Easy to navigate too.
Fun to view, essential for fans.
***½
Review by Joe Geesin