PAUL SIMON Surprise (2006)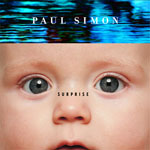 Expectation. It's a killer. It raises the bar before the first note is played. Reputation. It's enough to bury an album that would be hailed as a career best by a lesser mortal. Pressure. It's when you've got people like Rick Rubens getting some of their best work from faded contemporaries such as Neil Diamond.
So wily old fox Paul Simon has done the unexpected and brought Brian Eno on board to collaborate and provide 'sonic landscapes' on his first album since You're The One in 2000. A shrewd move? Well, the first thing to say about Surprise is that it's a beautifully crafted piece of work. And after a lost decade - most of the 1990s were devoted to his ill-fated Broadway musical, The Capeman and You're the One didn't exactly light any fires - that's no mean feat.
Not that Paul Simon much cares about what anyone else might think. He's happy to follow his instincts - as he has been since releasing Graceland 20 years ago - and if others like it, that's a bonus. Commercial success is not a driver.
Put together over two years and four sessions - none lasting more than 5 days - Simon brought songs in varying degrees of completion to Eno. He added his technical wizardry, and hey presto.
Built around a solid core of players - Simon on guitars, Eno on electronics, Pino Palladino on bass, Steve Gadd on drums and with the occasional guest appearance, Surprise is a considered piece of adult orientated rock. It may not be music for the masses, but it's undoubtedly cultured and definitely one for Paul Simon fans.
Abandoning South African and Brazilian rhythms in favour Western rhythms and harmonies, the songs are typically Simon's storytelling style and cover all the usual bases - love, life, religion and war. Eno's contributions add an unusual and welcome dimension. The result - a first-rate Paul Simon record and his best album in a long time.
****
Review by Pete Whalley
***** Out of this world | **** Pretty damn fine |
*** OK, approach with caution unless you are a fan |
** Instant bargain bin fodder | * Ugly. Just ugly
get ready to rock is a division of hotdigitsnewmedia group
Why should I buy this CD?
If you're a Paul Simon fan, you're a quality AOR fan, or just like an album to show off the capabilities of your hi-fi.
Burn baby burn
How Can You Live In The North East?, Everything About It Is A Love Song, Wartime Prayers, Father And Daughter.